Are you tired of buying skincare products that promise to give you flawless skin but fail to deliver? Maybe you've been cycling through medspa treatments but have been unable to find one that benefits your specific skin concerns.
Look no further than Zaffiro – the newest treatment to improve your skin.
Zaffiro is a new and innovative treatment option that works to deeply cleanse, exfoliate, and tighten the skin all with the use of one medical device.
In today's article, we will give you the low down on Zaffiro, including how it works, the benefits it provides, and what makes it different from other medspa treatment options.
Keep reading to see if Zaffiro may be right for you!!
Aside from being an exciting new skincare treatment, Zaffiro is the only medical skincare device that combines the powers of hydroexfoliation and near-infrared energy (NIR). Zaffiro is a safe and effective treatment option that rejuvenates, improves elasticity, and cleanses the skin with its advanced technology.

Zaffiro works to:
Tighten skin and increase collagen production

Reduce the appearance of fine lines and wrinkles

Exfoliate and remove dead skin cells

Improve skin firmness and texture

Brighten complexion and increase skin radiance
Zaffiro Treatment Process
The Zaffiro machine includes two handpieces that utilize both hydroexfoliation and near-infrared energy.
Smart Hydro –  The Smart Hydro handpiece is used to provide targeted hydroexfoliation to cleanse the skin of dead skin cells and deeply moisturize the skin. The Smart Hydro leaves skin looking clear and radiant, while also feeling smooth and hydrated.
Smart Tightening – The Smart Tightening handpiece emits NIR energy to increase the body's natural production of collagen, resulting in tightened, lifted skin and improved laxity.
Depending on the goals of treatment, one of five Water Peeling Fluid formulas may be used. 
Hyaluronic Acid – Soothing Skin – Acne – Skin Brightening – Hair Nourishment
Looking to combat acne outbreaks? The Acne Formula may work best. 
Have red and inflamed skin? You may consider the Soothing Skin Formula!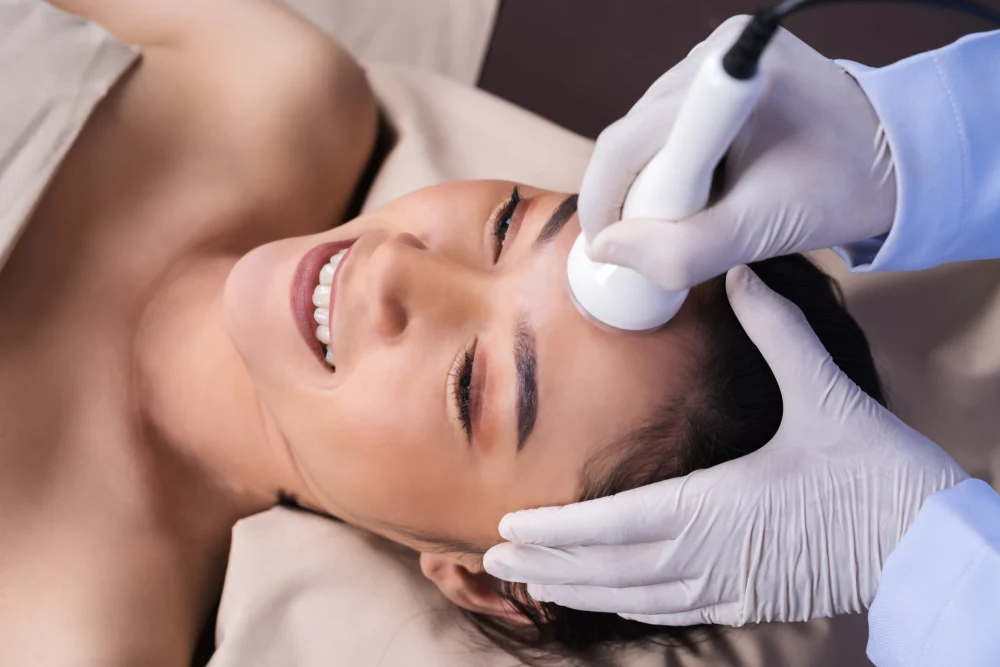 What Makes Zaffiro Different?
As noted earlier, Zaffiro is the only treatment that harnesses the power of both hydro exfoliation and near-infrared energy. 
With its unique technology, Zaffiro is able to lift and tighten the skin effectively. One clinical trial found that Zaffiro boosted fibroblasts (connective tissue cells) by nearly 40% following a single treatment.
Zaffiro is a top option for those looking to avoid invasive treatments or surgical procedures, yet obtain similar results. 
Zaffiro at The Couture Surgeon
The Couture Surgeon is a leader in new and upcoming treatment options, both surgical and non-surgical. Zaffiro is one such option we are excited to offer to our patients!
Our goal is to stay up to date with the latest and best procedures while focusing on providing patient-centered care. Our new office, located in Ridgewood, NJ, offers a wide variety of medical aesthetic treatments designed to help you look and feel better.
If you're interested in learning more about Zaffiro, or any of the other skin rejuvenating treatments we provide, give us a call! 
201.447.7770
https://thecouturesurgeon.com/contact/