Gynecomastia, or man boobs, is a condition that results in breast enlargement in men. While the condition is not usually harmful, the appearance of male breasts can be embarrassing and increase one's self-consciousness. 
Fortunately, there are quite as few treatments available for gynecomastia, but today, we'll be talking about gynecomastia surgery.
Understanding Gynecomastia Surgery
Breast reduction for men is called gynecomastia surgery. It is an outpatient procedure that removes excess fat, skin and tissue, resulting in a more masculine-looking chest.
The following are the root causes of gynecomastia:
Changes in hormone levels during puberty

Anabolic steroid use

Excess body weight or obesity
It's also worth noting that men who have lost significant weight usually combine breast reduction with tummy tuck surgery, liposculpture, and other procedures for a comprehensive daddy makeover.
Ideal Candidates 
Men with excessive breast tissue can get this intervention. However, it's advisable to work towards a stable and ideal weight before having gynecomastia surgery because any drastic weight loss or gain can jeopardize surgical outcomes.
The Procedure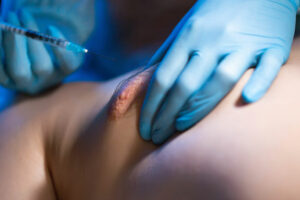 Gynecomastia surgery requires general anesthesia and usually takes 3 to 4 hours. Your provider will assess your chest and determine the best breast reduction approach depending on your physical examination, goals, and unique concerns.
The surgery will start once the anesthesia has taken effect:
The surgeon will carefully make a few small incisions under your arms, around your nipples, or on the side of your chest. Once the excess tissue is removed, the remaining tissue will be reshaped for a natural, more masculine look.

After the surgery, your provider will palpate the area to check for excess glandular tissue, which may be removed as well depending on the patient's goals and concerns.

It might also be necessary to realign your nipples based on the extent of the gynecomastia.

The surgeon may also remove any excess skin to help give the appearance of a smooth, sculpted chest.

Stitches are often used to close the incisions.
The Recovery Period
Most patients who get gynecomastia surgery usually take a week off to recover. 
Other things you would need to expect throughout your recovery period are:
You may need to wear some sort of support garment for up to 4 weeks after surgery and perhaps something similar to a sports bra for an additional 2 to 4 weeks after that.

If you are physically active, you can usually start working out again after 4 to 6 weeks (but best check with your surgeon first).

Your chest should feel more natural after 6 to 8 weeks, and the swelling and inflammation should be reduced by 50% at this point.

Your nipples might lose their sensation for a while, but this typically improves once the swelling goes down. The nerves in this area may also take up to 2 years to fully recover.

There could be scarring, which can take a whole year to fade. To speed up the healing process, you can try skin resurfacing treatments.
Gynecomastia can affect men of all ages. This condition is often caused by excess breast tissue rather than fat, so diets, exercise, and other traditional weight loss interventions will not be enough to treat gynecomastia successfully.
Say goodbye to those man boobs and hello to a more masculine-looking chest – thanks to the expertise of The Couture Surgeon! Book your appointment with us today!