What comes to your mind when you imagine a beach-ready body? A chiseled chest? Washboard abs? Muscled arms? How about well-toned legs? 
While there's still no substitute for a clean, healthy diet and regular workout sessions (especially if you want lasting results), sometimes, those alone aren't enough to give you the summer body you want. 
Fortunately, there are body contouring treatments available for that little extra push you need to get a more sculpted look. 
Read on to find out more about the body contouring procedures we have available here at The Couture Surgeon!
What You Need to Know About Body Contouring
Body contouring or body sculpting can be a surgical or non-surgical procedure and is done primarily to improve the appearance of a specific body part after major weight loss. It's best performed on individuals who have achieved and maintained their ideal weight or are a few pounds away from it.
It's important to note that body sculpting is not a weight loss procedure or treatment. Instead, it primarily targets those annoying and stubborn fat pockets (and occasionally, pouches of sagging skin that are the result of drastic weight loss) that no amount of dieting or exercising can remove.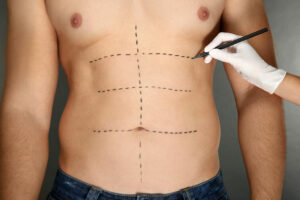 Here at The Couture Surgeon, Body Sculpting for men comes in many forms, such as:
Abdominoplasty

Brachioplasty

Thighplasty

Body lift
Now, let's dive a little deeper into each treatment.
Abdominoplasty
This method is famously known as a tummy tuck. It helps improve and better define the abdominal section by surgically removing the extra skin and fat in the area. It can also tighten up the underlying abdominal muscles for a trim, tight look.
Thighplasty
A thighplasty or thigh lift is a surgical procedure that brings out a more toned contour in the thigh area by removing sagging skin and excess fat. It's best done after massive weight loss or as a complement to liposuction results.
Brachioplasty
A brachioplasty or upper arm lift is a body contouring procedure that targets the excess fat and skin on the upper arms.
Loose,sagging arm skin is caused by several factors like aging, genetics, and drastic weight loss, so it cannot be addressed by healthy eating and exercise alone. A brachioplasty, on the other hand, can help you achieve a more contoured look in this area.
Body Lift
A body lift is a procedure that incorporates several body contouring procedures into one to eliminate excess skin and stubborn fat deposits after dramatic weight loss.
An upper body lift, lower body lift, or a combination of the two delivers significant body sculpting results. As with a lot of body contouring procedures, a body lift can provide long-lasting outcomes if you maintain a healthy weight.
The Benefits of Body Contouring
Once they've reached their desired weight, numerous men observe that they don't always get the trim, sculpted look they want – even though they're fit and healthy. 
Aside from helping to tighten up loose skin, body sculpting procedures also include the following other benefits:
Address multiple body parts in a single treatment or session

Enhance the shape of the target area

Long-lasting results
Body contouring is a long-term solution for getting rid of stubborn, excess fats and loose, sagging skin. However, maintaining a stable weight through a consistent diet and exercise regimen is still the best way to ensure long-term results.
But for body contouring needs that require a bit of surgical intervention, consult only with an experienced and qualified practitioner with an eye for symmetry like The Couture Surgeon, who has delivered beautiful, natural-looking results for countless satisfied patients. 
Schedule your appointment with us today!