Brotox is on the rise! By Brotox, we mean Botox™ for men – a fun play on words. 
In the world of cosmetic treatments, maintaining one's appearance is no longer limited to women. Men are also taking charge of their aesthetic goals by seeking out effective anti-aging solutions. 
One such solution that has gained popularity in recent years is Botox™. However, for many men, there are still numerous questions surrounding this particular treatment.
In this article, we will cover everything you need to know about Botox™ for men. From what it is and how it works, to its benefits and what to expect during the procedure, we've got you covered. So, let's dive in!
Botox™ Cosmetic is an FDA-approved injectable that is made up of a form of botulinum toxin that temporarily relaxes muscles, specifically in areas of the face. 
Some of the most popular uses of Botox™ for men and women alike include:
Reducing the appearance of fine lines and wrinkles on the forehead 

Smoothing crow's feet lines (lines around the eyes)

Improving the appearance of frown lines (also known as "11" lines)

Providing a lift to the brow area

Softening and smoothing lip lines
Botox™ is also available for use off-label for a few different medical treatments:
Hyperhidrosis – excessive sweating

Chronic migraines

Muscle spasms

Urinary incontinence
During your Botox™ appointment, your provider will begin by conducting a consultation to better understand your aesthetic goals as well as to create a treatment plan.
The injection process itself is quick and easy, with relatively little pain involved. Here's what you can expect:
Your provider may start by marking the injection areas to map out the process.

After cleansing the treatment area(s), your provider will inject a specific amount of botulinum toxin. The injection itself is typically described as mildly uncomfortable, but not painful. 

Following treatment, you may be given an ice pack to help prevent any bruising or swelling in the area. 

Your provider may leave you with specific aftercare instructions that are important to follow to maximize your results.
And that's it! A treatment that can be completed in as little as 15 minutes!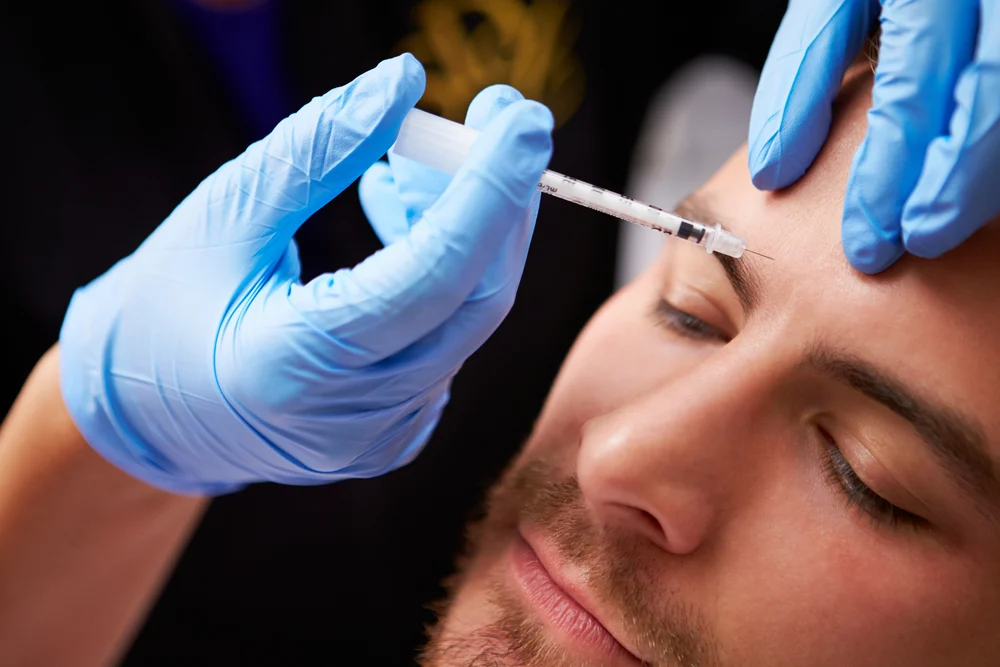 While men and women may age differently, the cosmetic options provide similar results. Botox™ treatments are one such option that is beneficial for me and women alike.
Many worry that Botox™ may cause an "overdone" look, but this could not be further from the truth. Botox™ is a wonderful way to combat signs of aging and maintain a youthful appearance.
Men can reap all the benefits of Botox™ and a variety of other anti-aging treatments offered in our office!
"Brotox" at The Couture Surgeon
If you're looking to book your "Brotox" session, then consider making an appointment with The Couture Surgeon!
Our office, located in Ridgewood, NJ, has experience treating both men and women with a variety of skin rejuvenation services.
Book your consultation appointment today and get started on your skincare journey!
201.447.7770
https://thecouturesurgeon.com/contact/